UHP Graphite Electrodes refer to graphite electrodes that allow the use of current densities greater than 25 A / cm2. UHP Graphite Electrodes are mainly used in ultra-high power electric furnace and ladle furnace. If you want to buy cheap graphite electrode with the best quality, please Email us for more details immediately.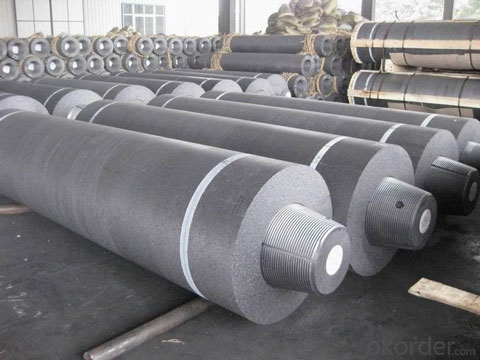 Graphite electrode, mainly uses petroleum coke, needle coke as raw material, coal pitch as binder, is made through calcination, ingredients, kneading, molding, baking, graphitization and machining, which is released electricity in electric arc furnace in the form of arc conductor to heat and melt furnace charge. It has the characteristics of low resistivity, good conductivity, low ash, uniform and compact structure, good oxidation resistance and high mechanical strength.
UHP Graphite Electrodes Benefits
Our product is made of high quality low ash materials, such as petroleum coke, needle coke and coal pitch.
From calcining, burdening, kneading, forming, baking to pressure impregnation, graphitization, we pay attention to every detail to make it boutique.
We know machining is very important, so we precision machined with professional CNC machining to make sure high quality.
Such of the products own characteristics with low resistivity, good electrical conductivity, low ash, compact structure, good antioxidation and high mechanical strength.
UHP Graphite Electrodes Uses
Steelmaking
Foundries
Smelting Furnaces
Non-ferrous Metals
Ceramic Products
Glass Industry
Waste Recycling Industry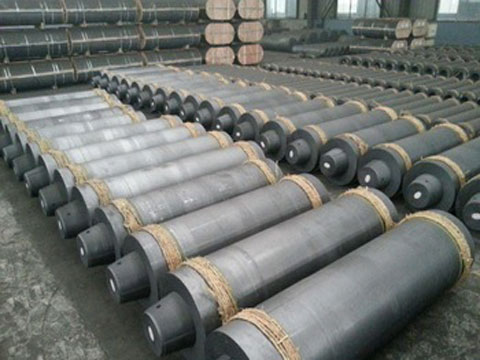 UHP Graphite Electrodes Specifications
Specifications and Allowance
SPECIFICATIONS AND ALLOWANCE OF UHP GRAPHITE ELECTRODES
Diameter(mm)
Length(mm)
Nominal Diameter
Actual Diameter
Nominal Length
Allowance
mm
inch
max
min
mm
Short Dimension
300
12
307
302
1600
1800
length
Max
Min
350
14
357
352
±100
-100
-275
400
16
409
403
450
18
460
454
500
20
511
505
1600/1800/2000/2200
1800/2000/2200
1800/2000/2200/2400
1800/2000/2200
1800/2000/2200
±100
-100
-275
550
22
556
553
600
24
613
607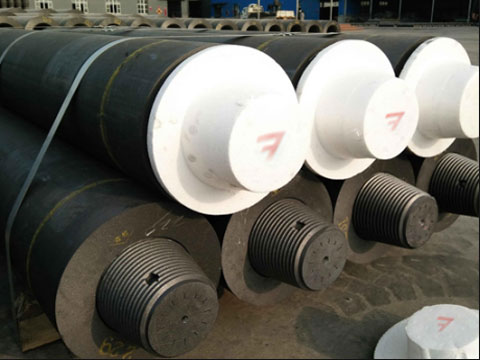 Technical Properties
TECHNICAL PROPERTIES OF UHP GRAPHITE ELECTRODES
ITEM
UNIT
MMNPDIA 300-600mm
STANDARD
SOLID SURVEY
ELECTRODE
NIPPLE
ELECTRODE
NIPPLE
RESISTIVITY≯
μΩm
6.2-6.5
5.5
5.0-6.0
4.5
BENDING STRENGH≮
MPa
10.5
16
14-16
18-20
ELASTIC MODULUS≯
GPa
14
18
12
14
Ash≯
%
0.3
0.3
0.3
0.3
BULK DENSITY ≮
g/cm3
1.64-1.65
1.70-1.72
1.72-1.75
1.78
CTE ≯ (100-600℃)
×10-6/℃
1.5
1.4
1.3
1.2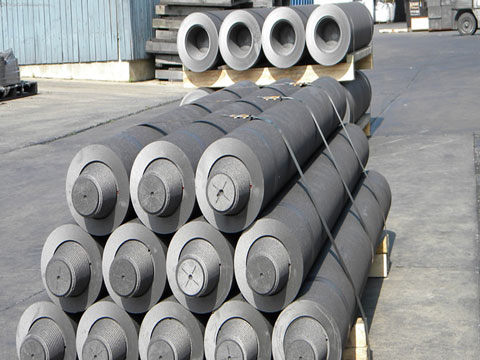 Suggested Current-Capacities
SUGGESTED CURRENT-CAPACITIES OFELECTRODES
Nominal Diameter
Suggested Current-Carrying Capacities (A)
Current Density(A/cm2)
mm
inch
250
10
9200-15100
21-30
300
12
15000-22000
20-30
350
14
20000-30000
20-30
400
16
25000-40000
19-30
450
18
32000-45000
19-27
500
20
38000-55000
18-27
550
22
48000-60000
18-24
600
24
52000-72000
18-24
700
27
62000-95000
18-24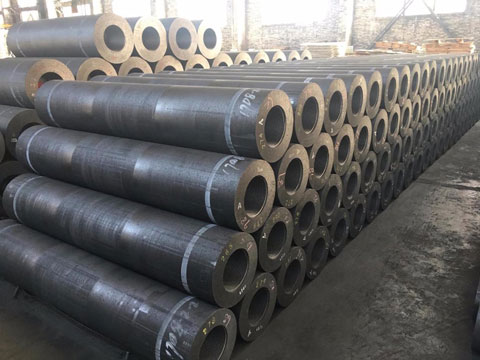 Electrode Surface Quality
ELECTRODE SURFACE QUALITY
Specification/
Defect dimension
Nominal Diameter(mm)
300-400
450-600
Diameter
20-40
30-50
Depth
5-10
10-15
Remarks:
1.There should be less than two defects or holes on the electrode surface, the max size of which is mentioned in the above chart.
2.There should be no transverse crack on the electrode surface. For the longitudinal crack, the length should be less than 5% of the electrode circumference and the width in between 0.3~1.0mm.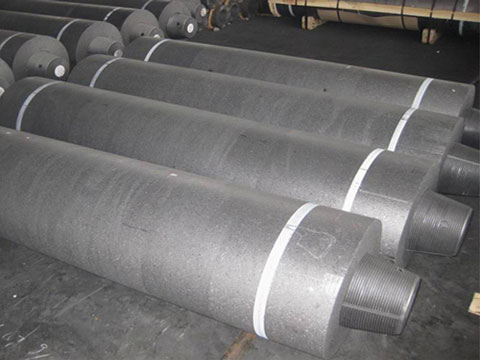 UHP Graphite Electrodes Manufacturer
All kinds of high quality graphite electrode products sales in RS Kiln Refractory Company, such as regular power/RP graphite electrode, high power/HP graphite electrode, ultra high power/UHP graphite electrode, graphite product, high purity graphite powder, high purity graphite block, graphite blocks, graphite powder, graphite crucibles and other graphite related products. Besides, we can also customize a variety of shaped graphite electrodes products according to our customer's needs and requirements.
We rely on advanced production equipment, strong technical force, complete quality, testing methods and strict system. The graphite products produced in RS have the characteristics of high strength, good thermal shock resistance, high temperature resistance, corrosion resistance, strong oxidation resistance and low electrical resistivity. So we provide various types of graphite products for the chemical industry, petroleum industry, electronics industry, semiconductor industry, steelmaking, foundries, powder metallurgy, non-ferrous metals, glass industry,etc.
If you are in need of high quality graphite electrodes products for your business, then don't hesitate to Contact us immediately!