Using petroleum coke and needle coke as raw materials, coal asphalt as binder, RP Graphite Electrode is made through the production process of calcination, compounding, kneading, pressing, roasting, graphitization and machining, which is the conductor that releases electric energy in the form of electric arc in electric arc furnace to heat and melt the furnace charge. The Graphite Electrode is mainly suitable for electric arc furnaces for steel making. Everyone who needs RP Graphite Electrode for smelting steel can Contact us for more details.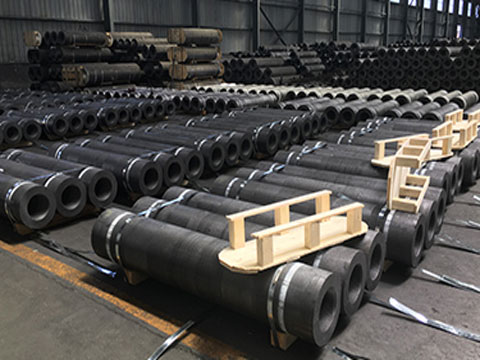 RP Graphite Electrode Uses
RP Graphite Electrode is manufactured for operation at currents with a density of not more than 17 A / cm2, which is mainly used for ordinary power electric furnaces such as steel making, silicon refining, and yellowing phosphorus,etc.
Advantages of RP Graphite Electrodes For Sale in RS
Our product is made of high quality low ash materials, such as petroleum coke, needle coke and coal pitch.
From calcining, burdening, kneading, forming, baking to pressure impregnation, graphitization, we pay attention to every detail to make it boutique.
We know machining is very important, so we precision machined with professional CNC machining to make sure high quality.
Such of the products own characteristics with low resistivity, good electrical conductivity, low ash, compact structure, good antioxidation and high mechanical strength.
Meanwhile, RP Graphite Electrodes have the following features:
High-quality Graphite Electrode
For EAF steel arc furnace
Competitive price
Free consultation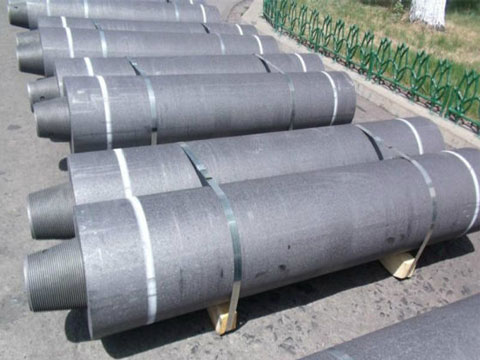 [contact-form-7id="89″ title="Button"]
RP Graphite Electrode Specification
Specifications and Allowance
SPECIFICATIONS AND ALLOWANCE OF RP GRAPHITE ELECTRODES
Dimeter(mm)
 Length(mm)
Nominal Diameter
Actual Diameter
Nominal Length
Allowance
mm
inch
max
min
mm
Short Dimension
300
12
307
302
1600
1800
length
Max
Min
350
14
357
352
±100
-100
-275
400
16
409
403
450
18
460
454
500
20
511
505
1600/1800/2000/2200
1800/2000/2200
±100
-100
-275
550
22
556
553
600
24
613
607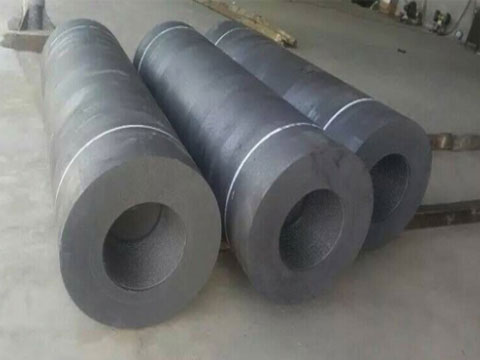 [contact-form-7id="89″ title="Button"]
Technical Properties
TECHNICAL PROPERTIES OF RP GRAPHITE ELECTRODES
ITEM
UNIT
MMNPDIA 300-600mm
STANDARD
SOLID SURVEY
ELECTRODE
NIPPLE
ELECTRODE
NIPPLE
RESISTIVITY (max)
μΩm
9.0-10.5
8.5
8.0-9.0
7.5
BENDING STRENGH (min)
MPa
6.4-7.8
13
9.0-10
15
ELASTIC MODULUS (max)
GPa
9.3
14
9
13.7
Ash (max)
%
0.3
0.3
0.3
0.3
BULK DENSITY (min)
g/cm3
1.52
1.68
1.56-1.62
1.7
CTE (max) (100-600℃)
×10-6/℃
2.9
2.8
2.4
2.2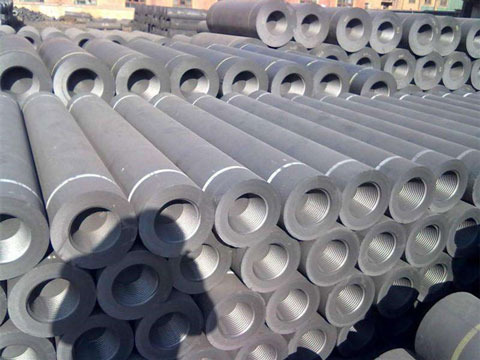 Suggested Current-Capacities
SUGGESTED CURRENT-CAPACITIES OF RP GRAPHITE ELECTRODES
Nominal Diameter
Suggested Current-Carrying Capaities
Current Density
mm
inch
300
12
10000-13000
14-18
350
14
13500-18000
14-18
400
16
18000-23500
14-18
450
18
22000-27000
13-17
500
20
25000-32000
13-16
600
24
30000-36000
12-15
Remarks: When used in elect s, recommend current capacity is 90% , and 110% when you for ladle.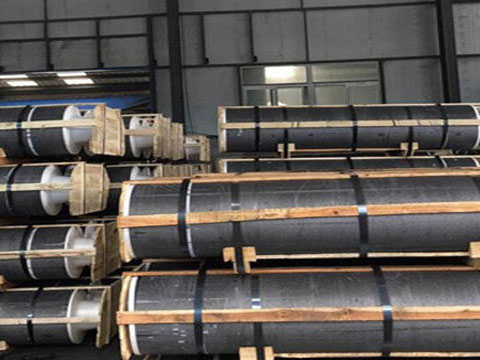 [contact-form-7id="89″ title="Button"]
Electrode Surface Quality
ELECTRODE SURFACE QUALITY OF RP GRAPHITE ELECTRODES
Sepecification/
Defect dimension
Nominal Dianeter(mm)
300-400
450-600
Diameter
20-40
30-50
Depth
5-10
10-15
Remarks:
There should be less than two defects or holes on the electrode surface, the max size of which is mentioned in the above chart.
There should be no transverse crack on the electrode surface. For the longitudinal crack, the length should be less than 5% of the electrode circumference and the width in between 0.3~1.0mm.
The width of black area on electrode surface should be less than 1/10 of electrode circumference and the length less than 1/3 of electrode.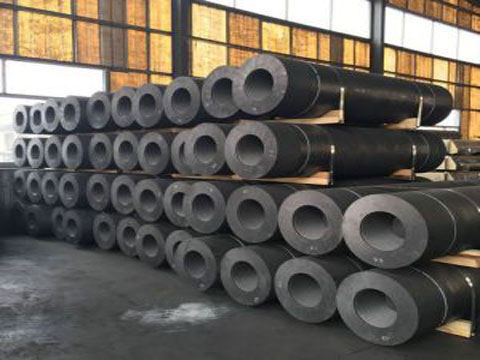 [contact-form-7id="89″ title="Button"]
Precautions When Using RP Graphite Electrode 
Select the appropriate RP Graphite Electrode grade and diameter according to the capacity of EAF and transformer.
Avoid damaging and moistening during the process of loading, unloading and storage. Wet electrodes should be dried. When lifting, needs to protect the electrode connector hole and the connector thread.
When connecting the electrode, use compressed air to blow off the dust in the connector hole. When the holder is holding the electrode, be sure to avoid the connector area.
The melting period is the most prone to break the electrode, so the operator should be carefully observed, timely lift the electrode.
In the refining period, if carbon is added by the RP Graphite Electrode, the electrode immersed in the molten steel becomes thinner quickly and breaks easily or causes the joint to fall, resulting in increased electrode consumption. Therefore, by other means to increase carbon as far as possible.
RP Graphite Electrode Manufacturer
RS Kiln Refractory Company supplies RP, HP, and UHP and impregnated(IP) graphite electrodes with low electrical resistivity and ash worked in electric-arc furnace steelmaking, industrial silicon furnace and corundum furnace, etc.
You can buy high quality graphite electrodes products directly from our factory and we can produce various specifications in accordance with our customer's needs and requirements. So if you are searching for low price RP Graphite Electrode with the best quality, there is no doubt that RS will be your best choice, Contact us right away for getting what you want!