UHP/HP/RP Graphite Electrode according to the power used for the differ steel furnaces. The production process of graphite electrodes is very complicated, and the time required for each production process is also different. These times add up to the production cycle of graphite electrodes. So how long does the production cycle of graphite electrode?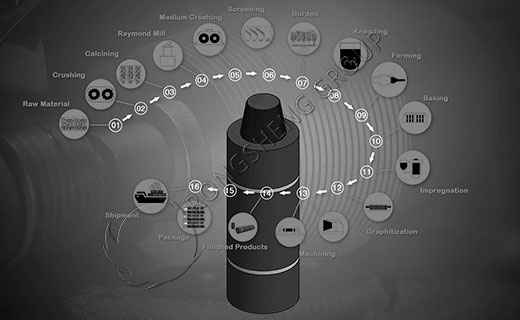 Taking the ultra-high power graphite electrode as an example, the time required for the production of the next batch of graphite electrodes is analyzed in detail.
The main processes and corresponding time for the production of a batch of ultra-high power or high-power graphite electrodes are as follows:
Electrode Forming (3 days) – Baking (25 days) – Impregnation (4 days) – Re-baking (15 days) – Graphitization (10 days) – Machining, Quality Inspection (2 days) – Finished packaging delivery (1 day), from feeding to product shipment, the fastest cycle of production is 60 days, and the production of electrode nipples are more efficient than the electrodes. It will take 90 days.
At the same time, in the production process of graphite electrodes, it is impossible to prevent some unexpected things. Therefore, the production cycle of graphite electrodes can only be no less than 90 days.
Rongsheng is a manufacturer specializing in the production and sale of graphite electrodes. We supply various types of graphite electrodes for steel furnace, HP graphite electrode for smelting steel dia. from 300mm-600mm at length 1600-2700mm. You are welcome to consult and order.