There are three main forms of graphite electrodes for sale machining: pressure vibration method, numerical control automatic forming method and mechanical processing method. Pressure vibration method: Pressure vibration method needs special for machine tools, the shape of the electrode is opposite to that of the electrode. Graphite materials and forming tools are placed relative to each other during processing, leaving a certain gap. A mixture of water and abrasive process fluid is injected into it. Ultrasonic vibration of the graphite and the forming tool is made while passing through the processing fluid. Under the action of abrasive impact, the graphite is slightly peeled to form into the desired shape. Abrasive is SiC, B4C or diamond, the rougher the abrasive, the faster the processing speed. The machine adopts sealed type and water screen to add when working work. Suitable for mass production of edM machining.
Processing Procedures For Graphite Materials
1. Graphite immersion oil. Graphite material before mechanical processing, should be immersed in oil for dozens of hours, so that the oil into graphite material, in order to make the mechanical processing of ash powder does not fly, and can get a smoother surface.
2. Paint and line. After the electrode is roughened on the contour surface, a thin layer of white paint is sprayed on the marking surface before marking, so that the lines are clear and convenient for mechanical processing.
3. Graphite electrode used of mechanical processing.
Graphite electrode is mainly used in electric furnace steelmaking. Electric furnace steelmaking uses graphite electrode to introduce current into the furnace. Strong current generates arc discharge through gas at the lower end of the electrode, and the heat generated by the arc is used for smelting. Graphite electrodes for sale of different diameters are used according to the capacity of the electric furnace. In order to make continuous use of the electrodes, the electrodes are connected by threaded joints of electrodes. The graphite electrode used in steelmaking accounts for about 70 ~ 80% of the total amount of graphite electrode.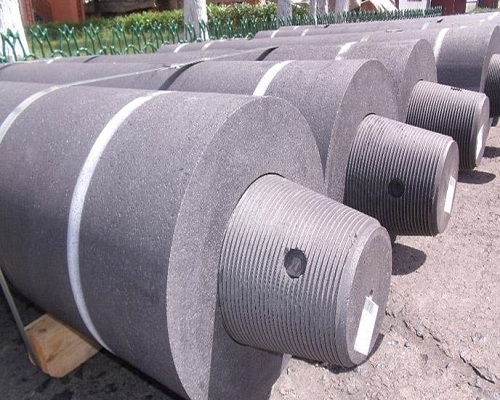 My factory specialized production each kind of power graphite electrode, is the specialized graphite electrode production processing factory, long-term provides the ultra high power graphite electrode specification table, the impregnation graphite electrode wholesale price, provides the graphite electrode price, my factory graphite electrodes for sale specification is complete, the price is reasonable, welcome to order.